In addition to therapy, another form of support for insomnia, anxiety, depression or despair, clarity and increasing happiness can be plant medicine and essential oils. Essential oils are natural oils, a plant or other natural source and producing its according scent. Each oil embodies its own powerful effects, based on the source of the oil and the benefits it holds. The impact of aromas is not to be overlooked, as a scent can instantly place us into a new space, mindset, emotion, or feeling.
EACH OIL EMBODIES ITS OWN POWERFUL EFFECTS, BASED ON THE SOURCE OF THE OIL AND THE BENEFITS IT HOLDS. 
What are the Impacts on Mental Health?
Essential oils are used as complementary treatments for many conditions, including anxiety and depression.  Oils have the potential to help with many symptoms and aspects of mental illness, including anxiety, restlessness, sadness, despair, difficulty concentrating, and difficulty sleeping. Essential oils provide support for the mind, providing an additional way to assist yourself in times of depression or anxiety. Combining essential oils may also help support the body in further ways, allowing for powerful benefits from multiple oils at once.
It's important to note that essential oils are not a cure for any mental health issues simply provide a natural remedy that may relieve some symptoms and help you manage healthy mental wellness.
What are the Best Oils to Support Mental Health? 
As mentioned above, common symptoms for those who suffer from mental illness include difficulty with sleeping, lack of concentration, anxiety, sadness, despair, and restlessness. Each of these symptoms can be eased through various essential oils and below I have included my favorite ones. These oils are well known to support you in calming your thoughts, easing your mind, and providing you with the ability to rest in stillness.
–      Angelica (Angelica archangelica): possesses a therapeutic essence, used for purification and protection; enriches and renews the body; used for wellness and vitality and improved energy levels
–      Basil (Ocimum basilicum): calms the mind and relieves stress, phenol compounds within is helped relieve anxiety; less sedating that anxiety medication
–      Bergamot (Citrus bergamia): promotes feelings of joy, energy, and freshness by improving blood circulation that counter depression; is proven to lower anxiety; scent to be used in a common area to create a comforting space
–      Cedarwood (Cedrus atlantica): has a soothing effect on mood, beneficial for anxiety and reducing stress; boosts self-esteem and confidence
–      Clary Sage (Salvia sclarea): an uplifting extract, provides clarity, calm, and contentment; lifts moods and causes feelings of euphoria; can ease tension and help control cortisol levels in women, can be administered before bed or in the bath as a soak
–      Frankincense (Boswellia carterii): its sweet aroma eases anxiety, often times combined with lavender for additional affect; studies show it improves anxiety, depression, and pain in people with terminal cancer
–      Geranium (Pelargonium graveolens): inhaling geranium oil effectively reduced their anxiety during labor, will help decrease diastolic blood pressure
–      Grapefruit (Citrus paradisi): may help control blood pressure and stress levels, declines levels of cortisol, enhanced nerve activity; primary active ingredient, limonene, is contributed to results
–      Jasmine (Jasminum officinale): promotes a sense of well-being and romance; calms the nervous system without causing sleepiness
–      Lavender (Lavandula angustifolia is the best variety for anxiety): promotes calm and peace of mind; lavender oil used as treatment for anxiety and depression has been proven to be as effective as anxiety medication; improves postpartum depression and anxiety, had fewer sleep disturbances, were less moody, and reported feeling healthier after use
–      Lemon (Citrus limon): a fresh, uplifting aroma that has a soothing, restorative effect, improves sleep
–      Neroli (Citrus aurantium): helps reduce stress, anxiety, and anxiety-induced depression; may help the brain release serotonin, and reduce levels of cortisol
–      Orange (Citrus sinensis): may help alleviate anxiety, a more positive mood than those
–      Palmarosa (Cymbopogon martini): relieving stress, anxiety, and nervous exhaustion; soft and uplifting scent; reduces a sense of anger
–      Patchouli (Pogostemon cablin): is used in Ayurvedic medicine to relieve anxiety, stress, and depression; often combined with lavender; promotes calmness and relaxation
–      Peppermint (Mentha piperita): is able to provide relief from stress, depression and mental exhaustion due to its refreshing nature and is also effective against feeling anxious and restless
–      Roman Chamomile (Matricaria recutita): used for relaxation and sleep, used in pre-bedtime rituals, aids in sleep by reducing stress and promoting relaxation; a natural remedy for anxiety and depression
–      Rose (Rosa damascena): the floral scent relaxes the senses; using a rose aromatherapy foot bath can reduce anxiety in pregnant women during labor
–      Rosemary (Rosmarinus officinalis): a stimulating and energizing scent, improves cognitive function and decrease levels of stress hormones; this may lead to reduce anxiety in some situations
–      Sandalwood (Santalum album): used in Ayurvedic and traditional Chinese medicine to treat physical and mental disorders, may help alleviate anxiety, mental alertness, and insomnia
–      Sweet Marjoram (Origanum majorana): calms nervousness and anxiety, eases headaches and anxiety
–      Turmeric (Curcuma longa): ability to normalize specific physiological pathways, elevates neurotransmitters such as serotonin, such as cortisol
–      Vetiver (Vetiveria zizanioides): used for relaxation, has similar anti-anxiety abilities similar to anxiety drugs
–      Wild Orange (Capparis mitchellii): is used in Chinese and Japanese medicines and Ayurvedic medicines, anxiety relief by relieving stress and increasing energy
–      Ylang-Ylang (Cananga odorata): fights depression and negative thoughts, fights feelings of anger, low self-confidence, and jealousy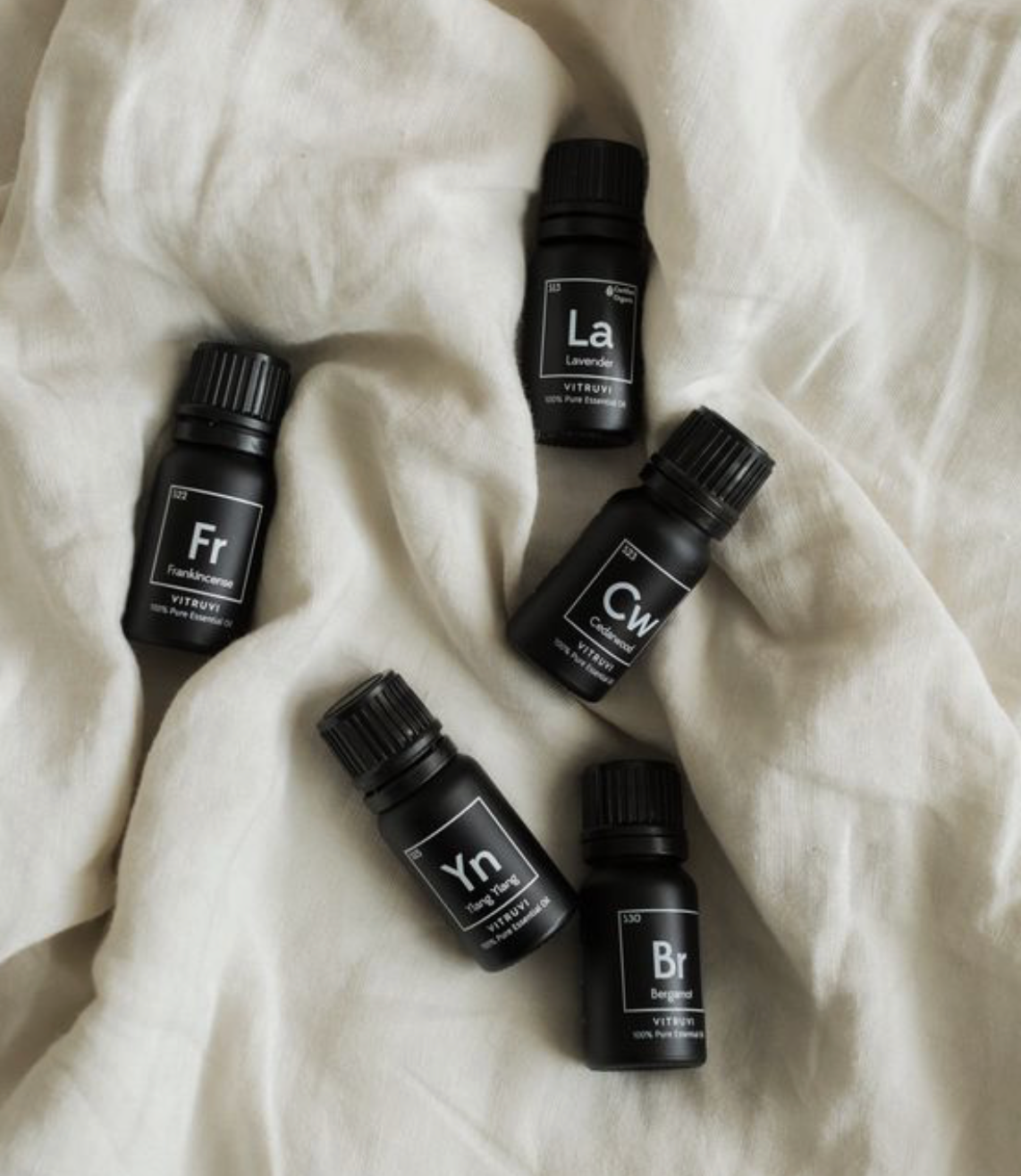 Source: Vitruvi
How to Incorporate Oils Into Your Life
Oils are able to be inhaled directly or dispersed into the area, with equal level of effects benefitting you. If choosing to inhale directly, there are many options to go about this which are listed below. If choosing to allow the oil to disperse, one may choose a specific area of the body or choose a full body experience. Based on the benefits of the oil and the intention behind the use, you can make your decision of how you want to incorporate oils into your routine.
The most common methods for scent inhalation:
Inhale the scent directly from the oil's bottle
Dab a few drops of the essential oil onto a cotton ball or and inhale directly
Add several drops of the oil to a diffuser
Create an aromatherapy bath by adding several drops of essential oil combined with honey, milk, or a carrier oil to your bathwater
Enjoy an aromatherapy massage by adding a few drops of the essential oil to your favorite massage oil
Risks and Warnings of Oils

If you experience respiratory problems, pregnant women, and children shouldn't use essential oils unless under the supervision of a doctor or trained aromatherapist. All essential oils have the ability to cause an allergic reaction, so you should never apply them to your skin undiluted. If you plan to apply an essential oil blend to your skin, you should add 1 ounce of a carrier oil (sweet almond oil, olive oil, coconut oil, or jojoba oil) to every 3 to 6 drops of essential oil. You should also do a skin patch test before large applications by dabbing a small amount of a patch of skin to test if this oil will cause your skin to have a reaction. Most importantly, do not ingest essential oils. Enjoy simply, peacefully, and lovingly!
For more information on how Essential Oils could be helpful for you or to learn more about them in general, please contact me through my website and I am happy to answer questions for you. Please see below for our favorite brands that are sourced ethically and are of the highest quality!
Where To Buy